ACRTA bus fares provide a convenient, simple, and affordable way to pay for your trip and get where you're going.
The bus fare structure for the RTA is illustrated in the chart below.  Contact RTA for price information.
 

Cash Fares

 

Ten Ride Tickets

 

Monthly Passes

Routes 9 & 10 (Bluffton/Delphos)

Cash Fares

Adults
$1.00
N/A
    $40.00
$2.00
Senior Citizens (65+ with RTA ID Card)
$0.50
N/A
     $20.00
$1.00
Disabled (with RTA ID Card)
$0.50
N/A
      $20.00
$1.00
Youth (6 Years to 18 Years)
$0.75
N/A
     $40.00
$1.50
Child (Under Age 6)
Free
N/A
N/A
Free
Transfers
Free
N/A
N/A
Free
Uplift (Paratransit)
$2.00
$20.00
N/A
N/A
Demand Response
$7.00
N/A
N/A
N/A
Discounted School Passes

(Elementary through High School)

 

N/A

 

N/A

 

$10.00

 

N/A

Microtransit
$3.00
N/A
N/A
N/A
Demand Response service area map and pricing information (goes into effect July 1, 2020.  Pricing is for general public, not contract trips.)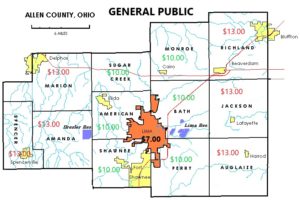 RTA ID Cards
To apply for a half-price fare RTA ID card, simply bring proof of age or disability (ID card, physician's note, Medicare ID card, etc.) to the Dispatch window in the Transfer Station.  The dispatcher will then take your picture and issue you the RTA ID for a nominal cost of $2.00, which must be shown every time you board to get the half-price fare.
Cash
We provide patrons with a convenient option of paying with cash for one-way trips when they board the bus. Exact change is required, driver cannot make change. Credit and debit are not accepted on the buses, but are at the Transfer Station window.  There is a 3% convenience fee for credit/debit card usage.
Transfers
Occasionally you may need to ride two different buses or routes to reach your ultimate destination. When boarding ask your driver for your free transfer. Transfers are valid at the downtown Transfer Station only and must be used within 45 minutes of arriving downtown. Unfortunately, transfers can not be used for a return trip on the same route that issued the transfer.
Monthly Passes
Monthly passes can be purchased at the Transfer Station dispatch window or from the automatic fare box on the buses.
Day Passes
Daily passes that are good for 24 hours are $3.00 and can be purchased on the bus (preferred) or at the Transfer Station dispatch window.
Call 419-222-2RTA for price information.